All new workstations come with an ergonomic chair that boasts the following features:
Adaptive bolstering in the seat cushion allows the seat to conform to your shape.

Adjustable arms move in four directions for personalized arm support: height, width, pivot, and depth.

The Integrated LiveBack System combines a flexible back frame, linked flexors and dual-energy lumbar to intuitively sense and respond to user's needs.

The Weight-Activated Mechanism moves as fluidly as the human body does. It provides a recline resistance that is proportional to your own body weight, while keeping you oriented to you work.

Adjustable seat depth which allows the seat to be positioned forward or backward for long-term comfort.

The Comfort Dial allows users to quickly adjust to one of these four comfortable settings: upright back lock, mid-stop recline, full recline with weight-activated tension + 20% boost, and full recline with weight-activated tension.

The chair is up to 95% recyclable and made of up to 28% recycled content; it has received Bronze Cradle to Cradle product certification and it is level 3 certified to the BIFMA e3 sustainability standard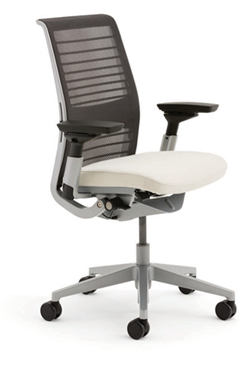 Note - Chairs will have different fabric than shown in photo.